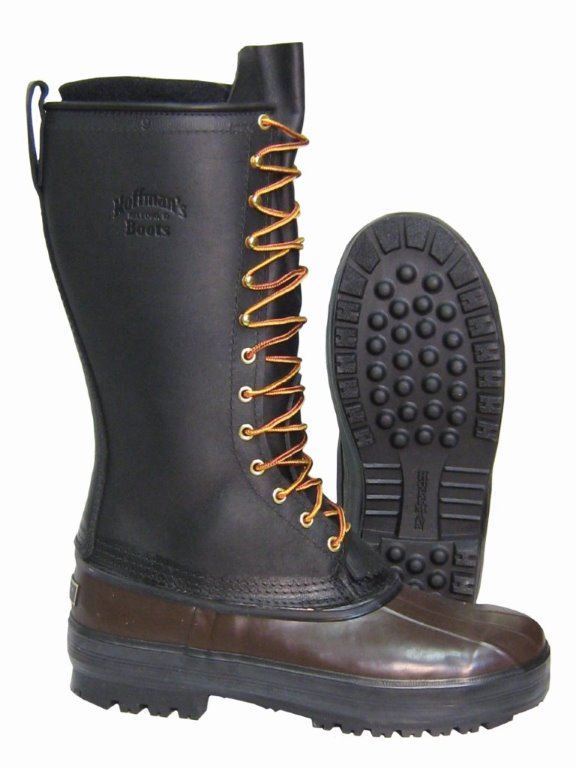 The Hoffman Double-Insulated Mountaineer is the warmest pack boot we offer! While other companies are either importing all materials or selling their boots at a premium price, Hoffman's offers you the best pac boot on the market at a fair price. We use only the finest hand-laid rubber bottoms that feature 200 grams of built in thinsulate and an additional 9mm built in foot bed for extra warmth.
Hoffman's exclusive Air-grip traction sole was designed to keep you on your feet in slick conditions. A removable 9mm felt liner with a moisture-absorbing polypropylene backing is added for extra insulation. Hoffman's Made in Idaho leather uppers are hand-made with 7-7½ oz. oil-tanned leather and are designed to conform to your leg for added support. Solid brass hardware and no-nonsense lacing completes this boot. The Hoffman Double Insulated Mountaineer is an excellent choice for the outdoorsman needing a warmer boot during periods of cold temperatures or low activity.
This boot is a top-pick for ice fishing, tree stand hunting, snowmobiling or for individuals who have a harder time staying warm. For people using their pacs for working conditions, please look at the pro-series pacs that are designed for harsher environments.
Order Your Print Catalog Here!